I love macaroni and cheese in all its forms. This is a favorite of mine because it keeps the cheesy stringy moisture of a non-bake recipe while holding it relatively together and crispy at the top like a traditional southern bake mac and cheese recipe. 
Several extras to what I consider the best-baked mac and cheese is an addition of a zesty cajun seasoning and not baking it too long until it dries too much and loses its cheesy texture. 
My favorite cheeses to use are sharp cheddar cheese, mozzarella, and gouda. Different people prefer different things. Also, I love to add a decent amount of cottage cheese to my mixture.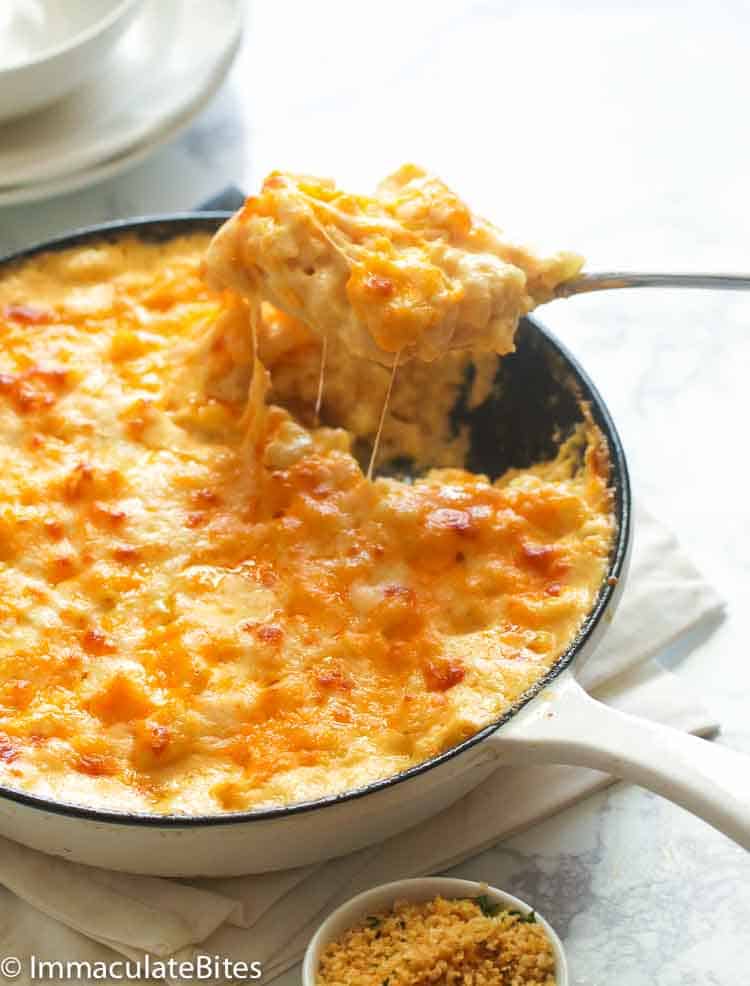 Ingredients
▢3 tablespoons unsalted butter
▢2 tablespoons flour
▢1 12oz canned evaporated milk
▢½ cup half and a half (half cream and half milk)
▢½ -1 tablespoon onion powder
▢2 teaspoons garlic powder
▢½ -1 teaspoon cajun seasoning
▢½ cup mozzarella cheese, grated
▢½ cup sharp cheddar cheese, grated
▢½ cup gouda cheese, grated
▢Salt and pepper to taste
▢8-ounce uncooked Macaroni
Directions
1. Cook macaroni al dente and drain.
2. Add butter to a deep skillet, as soon as butter melts whisk in flour until it's fully mixed with butter. Then cook for about a minute.
3. Slowly add evaporated milk a little at a time, followed by the half and half; you do not want the mixture to form any lumps. Simmer for about 3-5 minutes until the mixture thickens slightly.
4. Add seasonings, onion and garlic powder, cajun seasoning.
5. Bring to a simmer and let it simmer gently for about 2 minutes.
6. Stir in the cheeses (reserve some of each for toppings later), and continue stirring until everything's melted and evenly combined and, smooth. Salt & pepper, to taste.
7. Then add the cooked pasta to the pot, stir to evenly incorporate.
8. Transfer the pasta mixture into the pan or into a lightly greased 2-qt. baking dish; top with remaining cheese.
9. Bake at 375 Degrees F° for 20 minutes or until golden and a little crispy.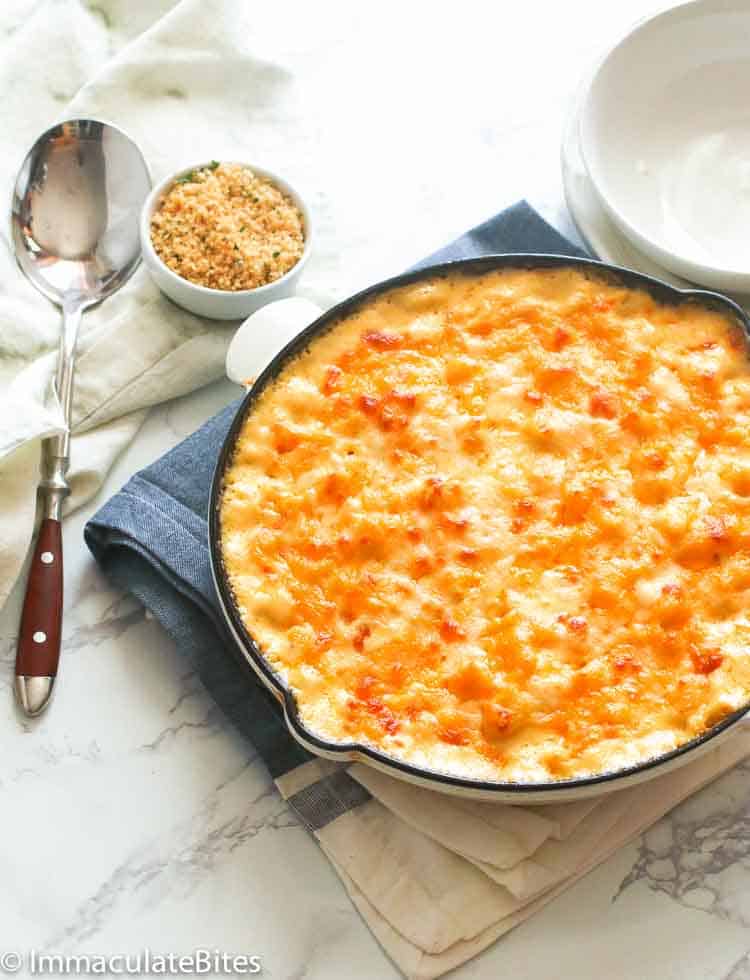 Bread crumb topping (optional)
Place a small skillet on medium heat with 2 tablespoons butter, then toss in 1 teaspoon minced garlic, stir for about 30 seconds and throw in bread crumbs. Saute for about 3-4 minutes or until fragrant. Lightly season with salt and pepper, if desired. Then top the mac and cheese with the bread crumbs and bake.

Cheeses and Cheese Sauce
Don't use pre-shredded bagged cheese as it is drier. You have to get blocks of it and shred it yourself.
More mozzarella cheese can be added for it gives it a nice gooey pull in every bite.
Do not cook cheese sauce too long.

 Recipe was influenced by Immaculate Bites
https://www.africanbites.com/baked-mac-cheese/