OH YES! Vegan Cream Cheese! Try this delicious recipe on a bagel!
Ingredients
▢1 1/2 cups raw cashews, soaked
▢1/4 cup unsweetened non-dairy yogurt
▢1 tablespoon lemon juice
▢1 tablespoon apple cider vinegar
▢1/2 teaspoon salt
OPTIONAL:
▢3 tablespoons chopped chives
▢1 teaspoon onion powder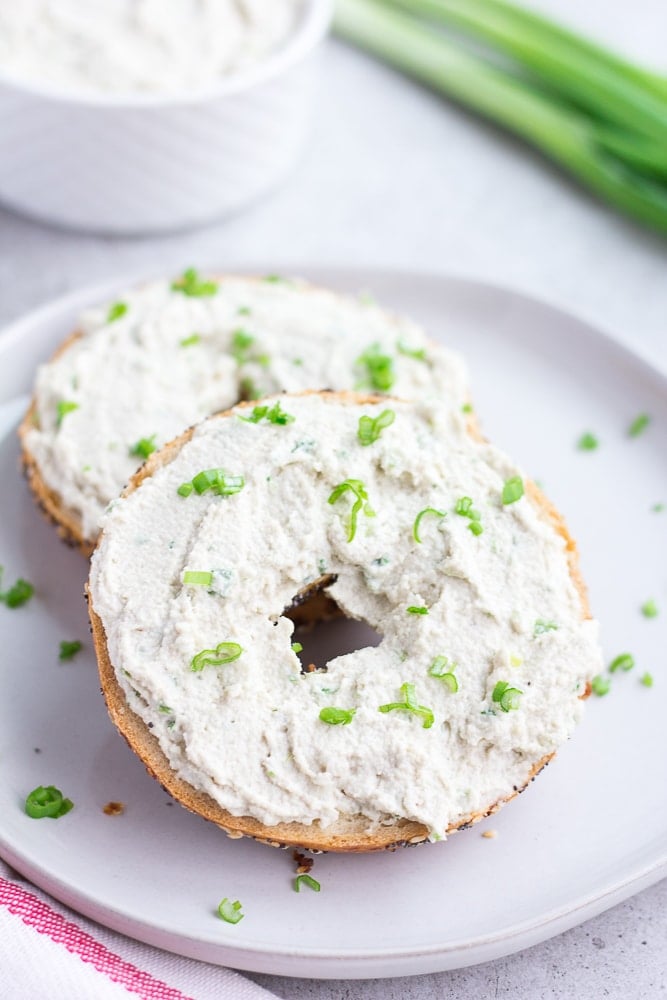 Instructions
Soak the cashews either overnight in cool water in the refrigerator, or for at least 30 minutes in hot water. The longer you soak the cashews, the creamier the cream cheese will be.
Drain and rinse the soaked cashews, and add them to a food processor. Add the unsweetened non-dairy yogurt, lemon juice, apple cider vinegar, and salt. Blend until smooth, stopping to scrape the sides as needed. 
Taste; add any additional salt or lemon juice, if desired. Add the chives and onion powder if using, and pulse until incorporated. 
Serve immediately on bagels, or store covered in the refrigerator for up to 5 days. It can also be frozen if desired.