This is a delicious baked vegan baked option that really binds the ingredients together, brings out more flavor, and makes crispy cover without all the extra oil.
INGREDIENTS
450 g / 1 lb starchy variety potatoes (I used Maris Piper), peeled
heaped ½ tsp salt
1 large shallot or ½ large onion, finely grated or chopped
a good grind of black pepper, adjust to taste
oil or oil spray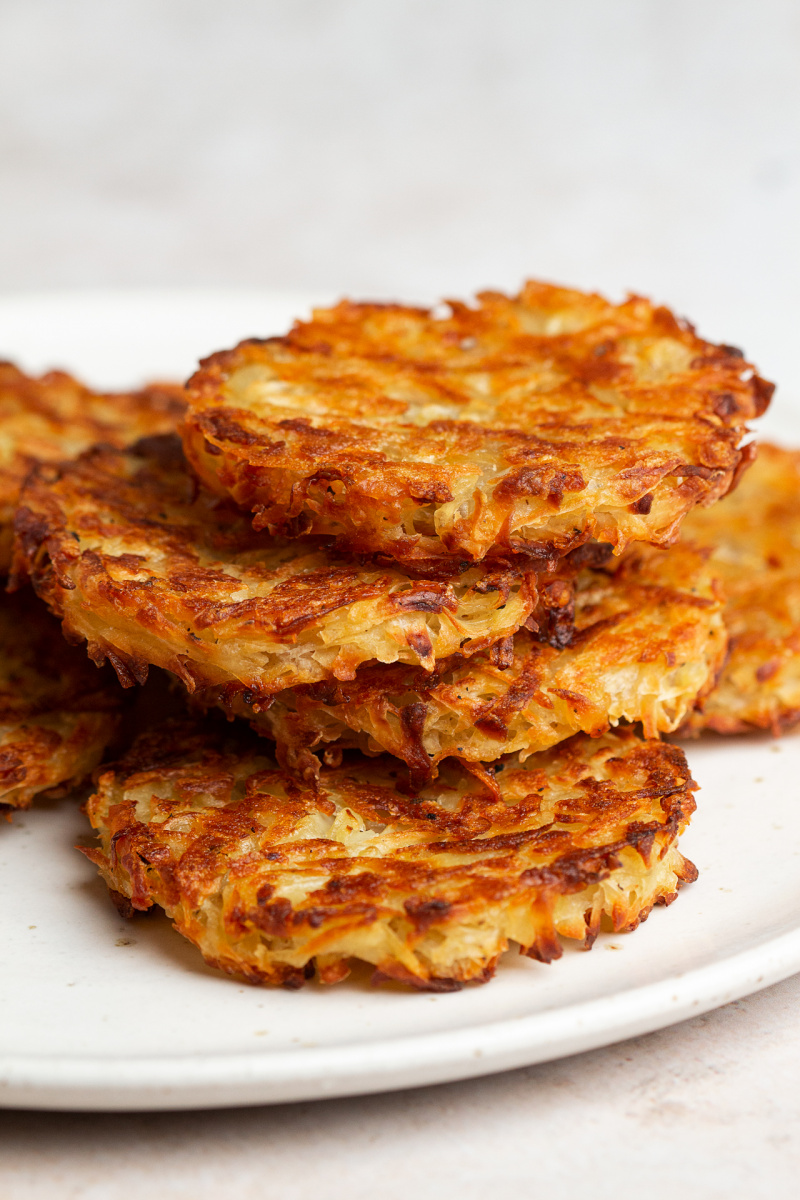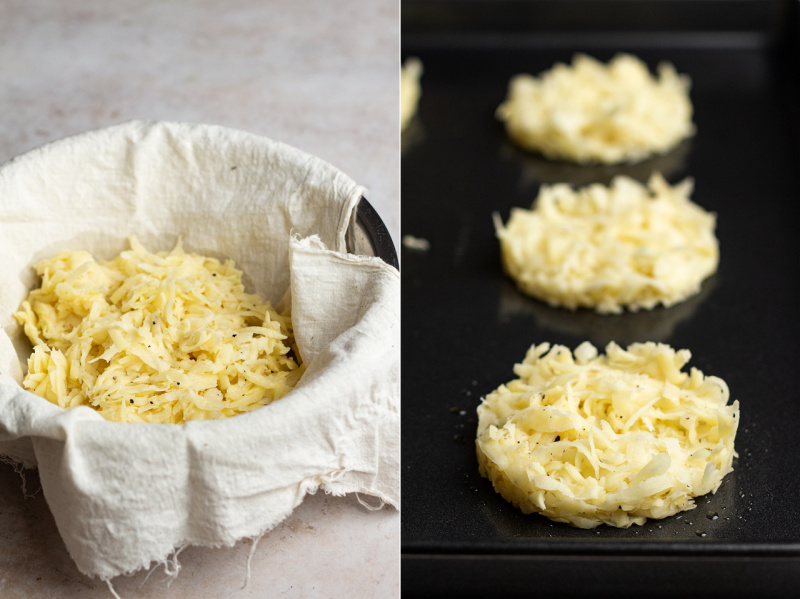 METHOD
If you want crispy hash browns with a softer interior, parboil medium* potatoes for 5 minutes, drain and allow them to cool completely. It's not necessary though, you can also just use raw potatoes but they produce crispier hash browns with less softness inside. I've included both options below.
Grate raw or cooled parboiled potatoes coarsely in a food processor or using a manual grater.
Preheat the oven to 180° C / 355° F (no fan) for raw potato hash browns and 200° C / 390° F for par-boiled potato ones. Get a non-stick baking sheet and a round cookie cutter or an egg ring (mine was 8 cm / 3″ diameter) ready.
Place grated potatoes and remaining ingredients in a bowl. If using raw potatoes, set the mixture aside for 10 minutes. If using parboiled potatoes, there is no need to do that and skip the next step too!
After 10 minutes, place the raw potato mixture in the middle of a clean muslin cloth or kitchen towel and squeeze all the excess moisture out. Drain the water away and you will end up with potato starch stuck to the bottom of the bowl – it is the starch that makes for crispy hash browns so scoop it up and add it back to the mixture. Break compacted mixture up with a fork or your hands after squeezing the liquid out.
Using a brush or an oil spray, spread a bit of oil underneath each hash brown, place a cookie cutter on the oiled area and loosely pile the mixture inside the cookie cutter (to just under 1 cm / 0.35 " height), but DON'T COMPACT the mixture. Use a fork to ensure the mixture is spread fairly evenly and it goes all the way to the edges – make sure the mixture is piled up loosely – this way it will cook all the way through and the hash browns won't be tough. If you would rather freestyle, that's fine too – use a spoon, don't flatten the mixture too much and tidy the edges up with a knife to avoid them getting burnt.
Bake the raw potato hash browns for 20 minutes and parboil ones for about 10 then carefully detach from the tray using a flat spatula. Brush the surface of the baking tray with oil again and flip each hash brown making sure that it sits directly on the oiled patch. Bake for a further 15-20 minutes (raw potato hash browns) and 10-15 minutes (parboiled potato hash browns).
Serve straight away with vegan sour cream/creme fraiche or ketchup – whichever takes your fancy.