This is a beloved classic in the vegan world. One of the most enjoyed finger foods, especially, amongst children. And with a side of seasoned fries and ketchup which is naturally vegan. 🙂 Well let's get into the recipe.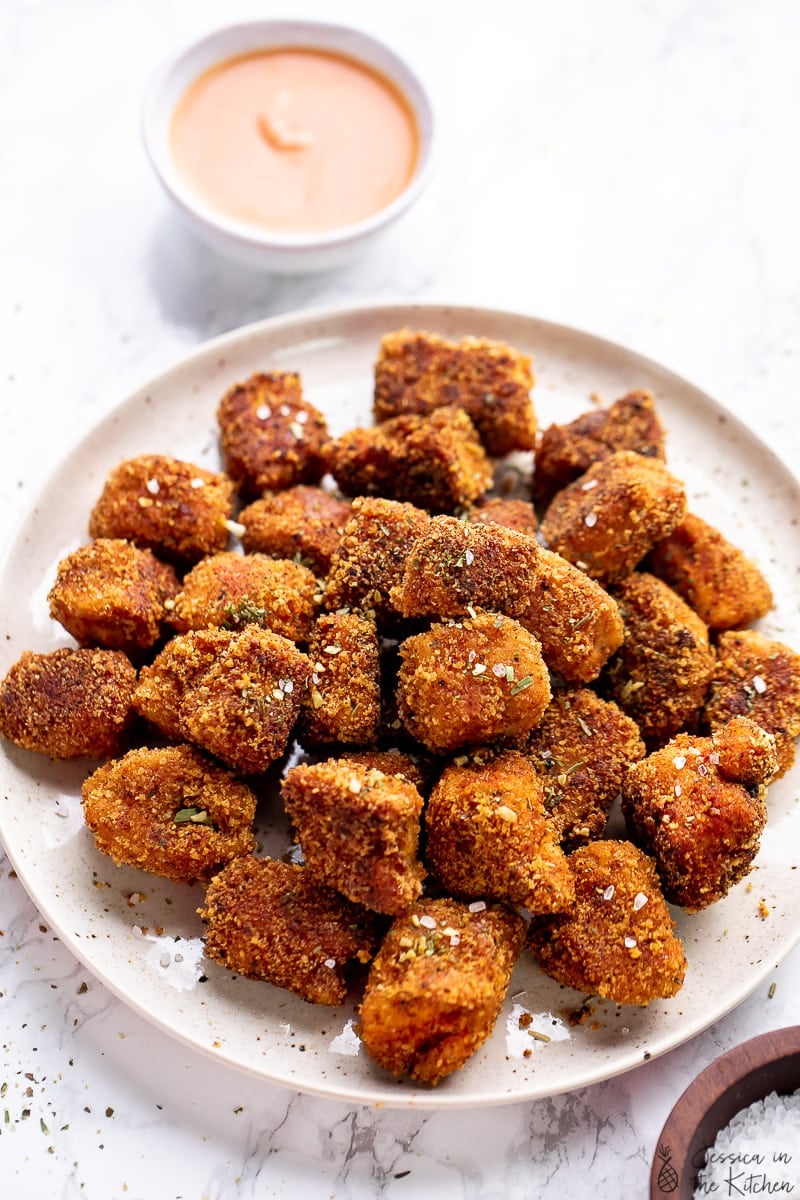 Ingredients
1 lb block tofu pressed and drained of liquid
Marinade
¼ cup liquid aminos* + 1 tablespoon or soy sauce or tamari (any is fine)
½ cup filtered water
1 teaspoon garlic powder
1 teaspoon onion powder
1 teaspoon smoked paprika
1 tablespoon nutritional yeast if you don't have this, that's okay
Batter
¾ cup any nut milk or ANY vegan milk (I used unsweetened almond milk)
1 ½ teaspoons apple cider vinegar or regular vinegar
1 cup gluten free flour or regular flour (I used Bob's Red Mill's Gluten Free All Purpose Baking Flour)
Crumb Mixture
1 ¼ cup gluten free breadcrumbs or regular breadcrumbs (I used Nature's Path Organic Crispy Rice Cereal and pulsed them in my food processor until they resembled panko breadcrumbs)
3 teaspoons smoked paprika
3 teaspoons nutritional yeast
1 teaspoon garlic powder
1 teaspoon onion powder
1 teaspoon Italian seasoning
1 teaspoon sea salt
¼ cup of oil if pan-frying, if not, instructions for baking are below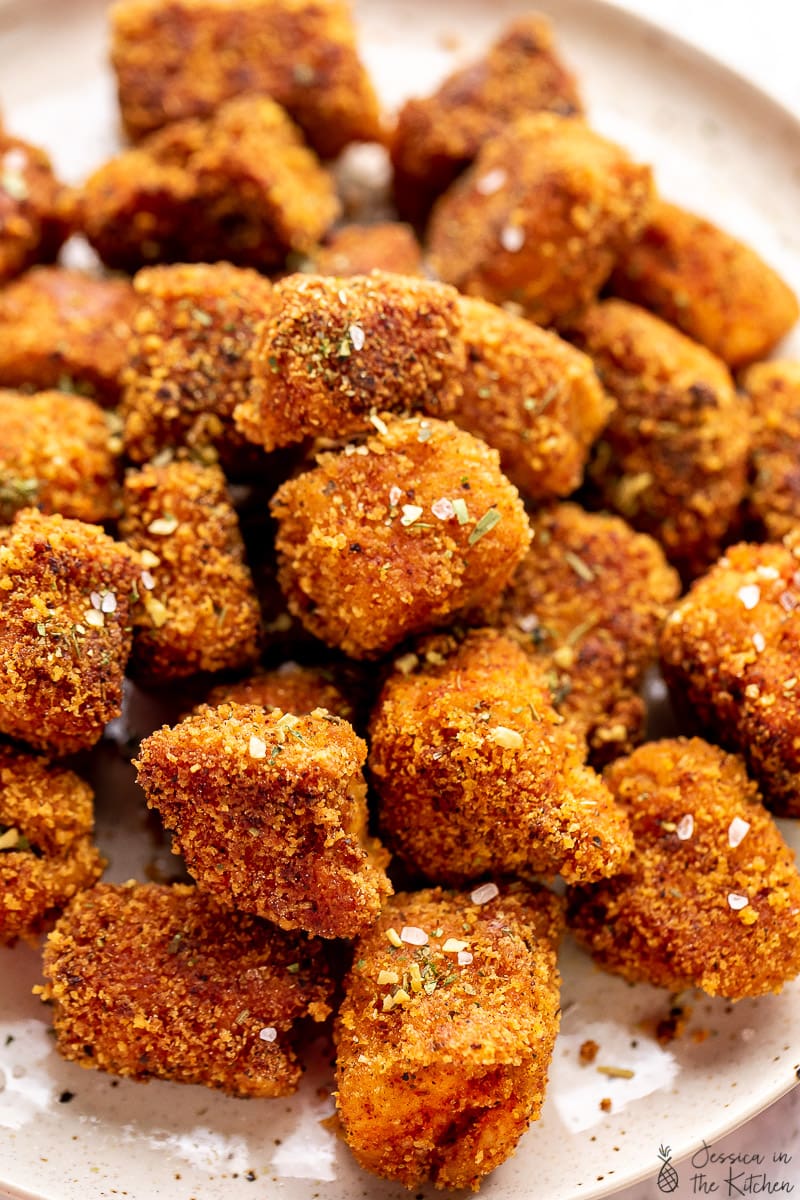 Instructions
Take your pressed tofu and slice it in half length wise (so you end up with two large slices the same length and width as the original). Tear the tofu into 1 inch cubes. I like to use a ruler to help me measure the first tear, then use that as a guide, but it doesn't seem to be exactly 1 inch.
In a bowl or glass tupperware, add all the marinade ingredients and stir to combine. Taste it, you can add more liquid aminos if you want yours saltier, or more water. Add in tofu and stir to combine so all the tofu is coated. Marinade for at least 15 minutes, but up to overnight. While marinating, prepare your bowls with the flour, the buttermilk, and the crumbs.
Batter & Crumb Mixture
In a bowl, add the nut milk and the apple cider vinegar. Stir to combine and let sit for about 2 minutes. This is your buttermilk mixture.
Add the flour to its own bowl and line up side by side.
In a bowl add all the crumb mixture ingredients. You can use gluten free panko breadcrumbs or make your own by food processing 1 ¼ cups of brown rice krispies. Line up in a bowl beside the buttermilk. Line a baking sheet beside that – this is where you'll place your tofu pieces before pan-frying them, or layer them to bake them.
Putting it All Together
Take one tofu piece from the marinade. Dip it into the flour, shaking off all the excess flour, then into the buttermilk. Shake off the excess buttermilk, then dip it back into the flour, then into the buttermilk again, shaking off all the excess again. Then dip it into the crumb mixture, roll around, and place it on the baking sheet.
Once you get the hang of it, you can add several pieces at a time (I do like 10 pieces maximum at a time). This battering process is very forgiving!
When you're done with all the pieces, it's time to cook them.
Cooking the Tofu
Heat ¼ cup of oil over medium-high heat. When the oil is hot, add one piece of tofu. Cook for 1 ½ minute on each side (check for browning) or until golden brown, then flip and cook for another 1 ½ minutes on the other side. Remove to a paper towel to absorb the excess oil.
Continue to cook the rest, but you can now add several pieces of tofu now that you've tested that the oil is hot and you have your cooking time figured out. Don't overcrowd the pan since it'll reduce the temperature of the oil, making them not as crispy. It's best to leave enough space between each piece of tofu.
Continue until you've cooked all of the tofu. Allow to cool slightly, then serve immediately by itself, or with a dipping sauce. You can also add these to tacos, sandwiches, and many other uses!
To BAKE these: Preheat the oven to 400F/200C. Line the battered and breaded tofu pieces on the baking sheet and spray with some cooking oil on both sides. Bake for 25 minutes, flipping once way at the halfway mark. Serve and enjoy!